Brand new Climbing Club!
Starting 14th September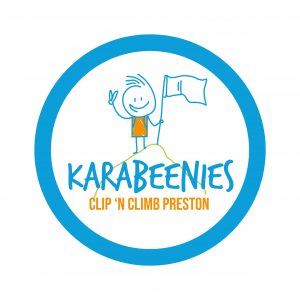 We are pleased to announce the start of our new climbing club – Karabeenies!
This is a 6 week fun climbing course which is aimed at 6 to 11 year olds and will focus on building confidence on the walls.
The course will run every Wednesday at 6.30pm for 6 weeks from the 14th September and is priced at £60.  Simply select the first slot on our booking system https://booking.preston.clipnclimb.co.uk/ and you will automatically booked onto the remaining weeks.
What's included?
1 hour of fun climbing each week
A Clip 'n Climb water bottle
A limited edition Karabeenies duffel bag
A dropslide every session (minimum height requirement of 120cm)
End of course presentation party
A membership code for 15% off all standard sessions for 12 months
WIN A PARTY FOR 10 PEOPLE!
9th February 2022
Make sure to enter our fabulous Facebook competition!  See our page here
Christmas is Coming
4th November 2021
Are you looking for the perfect gift?
Why not buy a fun experience for someone?
We offer any value gift voucher but our most popular is buying someone a standard climb with a drop slide (if they are tall enough?) at a value of £14.50.
Buy yours through our website Here its really simple to purchase and will be sent straight to your email inbox, alternately you can pick up a voucher from our centre at reception.
We are busy preparing our Christmas events and will post via our social media pages what we have on this Christmas – Santa is definitely visiting Clip 'n Climb Preston this Christmas 🙂
Keeping you safe
2nd June 2021
Thank you to so many of you who have visited since our re-opening on the 22nd May.  We are really glad to be back and we hope you have had a great time with us!
We are still restricted by certain guidelines but we do appreciate your co-operation in helping us make the centre a safe, covid secure place to visit!
Our team are working hard during sessions and behind the scenes to ensure that everything is clean and organised, meaning that you can visit in confidence.
Please remember to wear your face coverings in the centre unless climbing, eating or drinking and sanitise your hands regularly at one of our hand gel stations.